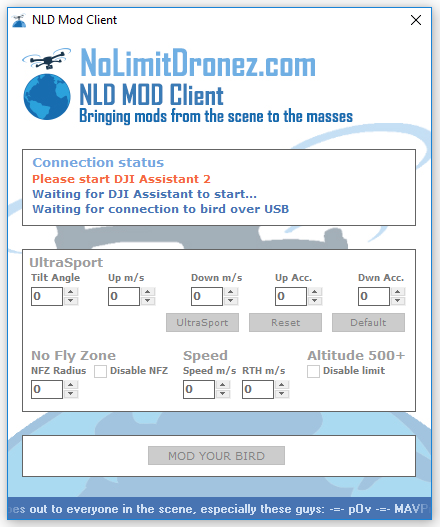 You took the red pill, welcome to the free world of your DJI product!
The NLD Mod Client platform is designed to bring you relevant mods from the scene as they are released.
Yeah, that is cool, but still, what is it???
Ok, NLD Mod Client is a framework that help you mod your drone without having to worry about anything else than hitting some buttons.
For the ordinary drone user, this should not have to be a complicated task.We assume that most people with drones prefer flying them rather than bricking them
So...if you just want to fly your drone as a free "bird" who bought and paid $$$ for the device then the NLD Mod Client is the solution for you.
It doesn't really matter if you are "not tech savy", "too busy to fiddle with it" or just a "spoon-feeder", you will still get all the benefits from the amazing people at the scenes hard work, serverd on a silver platter
The client is a downloadable app that will update itself as new mods becomes available!
By following these few easy steps you can unleash your bird's true potential
1. Download the app and install it
2. Fire up NLD Mod Client on your PC and launch the DJI Assistant afterwards.
3. Connect your bird to your computer while the NLD Mod Client is running, and change the values available as you see fit
It could not be easier!
This product is intended for the following DJI drones such as Mavic, Spark, Phantom 4, Phantom 4 Adv, Phantom 4 Pro and Inspire 2
Read the Guide for more in-depth instructions!